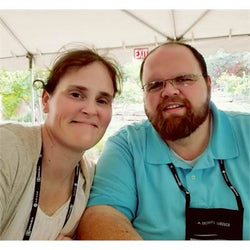 Steve & Jessica Millen
Owners
Thanks for visiting our website!
All of our products have two things in common: High Quality and Great Value!
At Lube Suppliers, we offer a unique mix of Oil Related Products and and a complete line of Power Equipment including a full Parts and Service Shop.
As a family-owned and operated business, we focus on providing great customer service and quality machines. We place a special emphasis on offering products that are made in the U.S.A. and whenever possible, products that are made right here in Wisconsin. Plus we have the areas widest range of lubricants and a variety of services options including bulk delivery and tank systems! We can provide you with the latest and best in outdoor power products to make your outdoor living more enjoyable.
Combine this wide array of selection with our friendly and knowledgeable staff, and we're confident if you visit once, you'll come again.
We know individuality is important, which is why we pay close attention to the interests of each customer. From the minute you walk through the door, meeting your needs is our top priority and often our customers become our friends!
We can't wait to meet you!