Description
Delivers 100% synthetic engine protection for advanced automotive technology, including turbos and direct injection. Specifically formulated for the longer drain intervals recommended by original equipment (OE) manufacturers.
See the product data sheet for full details.
ADVANCED WEAR PROTECTION
Excellent wear control to

 

protect critical engine parts

 

like pistons and cams.
47 percent more wear protection1

 

than required by the GM dexos1 Gen 2 specification.
Added

 

protection in extreme environments

 

produced by smaller displacement engines.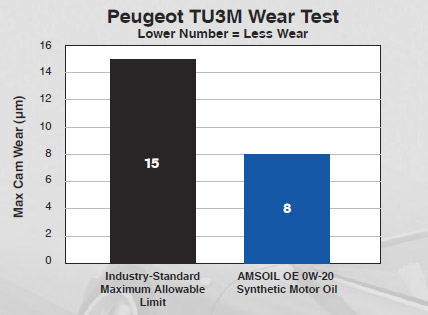 ---
PROTECTS PISTONS FROM LOW-SPEED PRE-IGNITION
Features

 

unique chemistry

 

to protect against low-speed pre-ignition (LSPI).
Achieved

 

100 percent protection

 

against LSPI2

 

in the engine test required by the GM dexos1 Gen 2 specification.
Zero occurrences of LSPI

 

were recorded throughout five consecutive tests.
---
KEEPS ENGINES CLEAN
Engineered to

 

remove harmful contaminants.
Synthetic base oils naturally

 

resist chemical breakdown

 

to help prevent deposits.
Detergent and dispersant additives

 

provide excellent sludge- and deposit-fighting properties.
---
PROTECTS IN ALL TEMPERATURES
Ideal

 

for today's hotter-running engines.
Fights heat

 

to control deposits, prevent thickening and limit oil consumption.
Easier cold starts

 

and

 

rapid lubrication

 

of components to reduce start-up wear.
---
IMPROVES FUEL ECONOMY & MAINTAINS LOW EMMISSIONS
Licensed by the American Petroleum Institute (API)

 

to meet and exceed common OEM requirements.
Excels in fuel-economy testing, earning the additional "Resource Conserving" designation from the API.
Promotes

 

proper operation of catalytic converters

 

for optimum service life and low exhaust emissions.
1Based on independent testing of OE 0W-20 in the Peugeot TU3M Wear Test as required by the dexos1 Gen 2 specification.
2Based on zero LSPI events in five consecutive tests of AMSOIL OE 5W-30 Motor Oil in the LSPI engine test required by the GM dexos1 Gen 2 specification.
*All trademarked names are the property of their respective owners and may be registered marks in some countries. No affiliation or endorsement claim, express or implied, is made by their use.